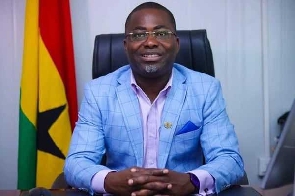 Months after the 2020 election took place, the Western Regional Secretary of the NPP Charles Bissue has declared the election as a "blessing in disguise".
He notes that the 2020 election taught the party so many lessons that they will like to work on going into the 2024 elections.

Speaking to Happy FM's Don Prah on the 'Epa Hoa Daben' show, he expressed that if the party is to "break the eight-year cycle", then it must work towards a stronger front before succeeding in government.

"2020 election was a blessing in disguise because it was a lesson despite the projects we implemented. So, we need to make an introspection of what happened. This is because you can have the message but it won't get to the people. Can you imagine that the Free SHS enrolled about 1.2 million students in the first year and then the next year, we had 2 million enrolling. On the average, 1.5 million students enrolled for free SHS. I believed some of these students voted for us but why did we lose some seats? One thing we need to do is to train our delegates too. As a delegate, you need to check the criteria for the person you vote for. Stronger political parties make stronger governments. It is a wakeup call for us as a party".

Despite admitting that the NPP needs to work harder to break the eight, he states that the opposition National Democratic Congress (NDC) keeps on getting weaker and weaker as their opponent for the 2024 elections.
Meanwhile, he says the NPP is not going to keep a complacent attitude even though they believe Ghanaians will reward them in 2024 for their good works.

Break The Eight

The New Patriotic Party (NPP) is hoping to break the eight years election cycle in Ghana with a victory in the 2024 polls.

Vice President, Dr. Mahamudu Bawumia says the party is focused on sustaining the socio-economic gains achieved under President Akufo-Addo's administration. He adds that President Akufo-Addo is determined to hand over power to another NPP regime, hence his unwavering commitment to working tirelessly at all times to make sure the party succeeds in governance.