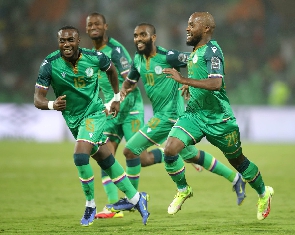 Comoros fans have expressed confidence and boldly predicted that their team will beat the Black Stars in the 2026 World Cup Qualifiers on November 21, 2023.
Despite being ranked significantly lower than Ghana, Comoros fans believe their team has the potential to pull off an upset and secure a crucial victory at the Moroni Stadium.

The mood among Comoros supporters is one of unwavering optimism.

They are buoyed by their team's recent impressive performances, following their 4-2 victory over the Central African Republic in the opening match of the qualifiers.

This win coupled with their win over the Black Stars at the 2021 AFCON has instilled in them a belief that their team can defeat Ghana. The little Island country beat Ghana 3-2 in the group stages of the 2021 AFCON.

The Comoros fans who expressed their views under a post made by their football association, also predicted that their team will beat Ghana by four goals.

With the crippling power crisis in the country, some fans also want the nation's electricity provider to turn off power in the middle of the match to ensure they beat Ghana.

Some fans also expressed their fear that the Black Stars are in for revenge following their win against Ghana at the last AFCON.

Read some of the comments below:


Elgani Abdel

Ohh ohh We're hungry ✌️????????????????#comores269 #verypiya????????????????????????

Housni Nassur

Welcome but you will crawl on your knees all the way home

Goda Mfana Na Mbaba

As a great fervent supporter of Coelacanthes, I do not wish to see these 2 Ayew brothers again with the smiles on their returns, but frustrated with their defeats.

I love these former Olympians, but the Coelacanthes first!
Pictures 4-5-6-7 look good on my way back

Soidioun Soudjai Abdallah

We going to do it again

Ewan Rkt

Comore 4 gana 1

Imany Le-nossente Fall

A game of revenge ???? let's not forget what they did to our goalkeeper in Cameroon.....

Maeldji Marshal
Go green 3 point goal

Mohamed Abdou El Karim

They are our women, they know it

Mhadjou Mmadi Zaid Ben

Go our valiant ambassadors of the Coelacanthes go victory in sha Allah yarab a3lamine #VeriPia ????????????????????????????

Saîd Le Zandry Kely

Cut off the lights on the 21st. We really need to revive the #Mnatsi_wu_tsona_mwedjé ????????????????♥️

Ibrahim Fils Alihoumadi M'colo
Please tell #SONELEC that there must be #Electricity_current across the #National_Territory. CcA????????????????????????

Click here to follow GhanaWeb Sports WhatsApp channel 



Watch the latest episode of Sports Check with Ryan Bertrand



Ghana's leading digital news platform, GhanaWeb, in conjunction with the Korle-Bu Teaching Hospital, is embarking on an aggressive campaign which is geared towards ensuring that parliament passes comprehensive legislation to guide organ harvesting, organ donation, and organ transplantation in the country.

JNA/OGB