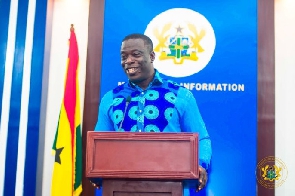 Minister of Employment and Labour Relations, Ignatius Baffour-Awuah, has bemoaned the high rate of citizens who have not signed up for any form of social security in Ghana.
According to him, a total of 8.1million people are not on SSNIT or any pension scheme.

Speaking at the ISSA Technical Seminar 2023 in Accra on Monday, October 2, 2023, Mr Baffour-Awuah noted that only 1.8million people were registered on SSNIT as of March this year.

He, therefore, called on pension schemes to leverage on technology and digitalization to extend their social security covering to all to bridge the gap.

The Employment and Labour Minister said, "As of March 2023, the total membership of the SSNIT scheme was estimated at 1.8million. This means that about 8.1million of the estimated working population do not have any form of social security covering."

"Obviously, this shows that leveraging digitalization to the extend social security covering is critical. Therefore, investment in this social security covering is not an aspiration that can be referred in the future," he added.
The two-day technical seminar on leveraging digitalization to extend social security coverage in West Africa under the auspices of the International Social Security Association (ISSA) is to identify innovative solutions and practices in the use of digital and mobile technologies to extend social security coverage in the West African sub-region.

SA/NOQ

Ghana's leading digital news platform, GhanaWeb, in conjunction with the Korle-Bu Teaching Hospital, is embarking on an aggressive campaign which is geared towards ensuring that parliament passes comprehensive legislation to guide organ harvesting, organ donation, and organ transplantation in the country.

Watch the latest edition of BizTech and BizHeadlines below: