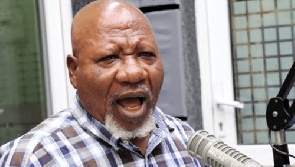 Former Central Regional Chairman for the National Democratic Congress (NDC) Allotey Jacobs has warned the people of Ghana not to believe in John Dramani Mahama.
The former President and leader of the NDC is on a thank-you tour of the middle belt of Ghana which includes Bono, Ashanti, Bono East.

John Dramani Mahama has been speaking on the 2020 election and the casualties recorded hinting of a do or die election in 2024.

"Everything that happens you learn lessons from them. For us, we have learnt lessons from the 2020 elections. The elections will be won or lost at the polling station. So it will be a do or die affair at the polling station, I didn't say all die be die, I said do or die.
The right thing must be done. In 2024, the polling stations is where we will win the elections. We won't wait and go to the Supreme Court. Collation center and polling station, we will do everything to make sure the election is transparent, free and fair. We wouldn't want to cheat NPP and we also don't want anyone to cheat us. The elections should be transparent so that the person the people of Ghana want to be their leader will be made their leader."

But reacting to the former President's declaration in a post shared on Facebook, Allotey Jacobs said "May you never trust the words of a desperate man".

Meanwhile, the former President has been criticized for his comment with several Ghanaians believing that a statesman should not make such comments.