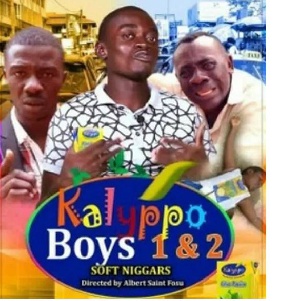 The artwork of a potential new movie on the Kalyppo craze that has hit the net and is seriously cracking up people with a Ghanaian sense of humour.
One of the commonest perceptions of Kumasi based movies is that they are produced expressly and are usually inspired by hot topics making news in Ghana.

The latest artwork of the supposed new movie titled Kalyppo Boys (1&2), features Lilwin, Akrobeto and Kwaku Manu.

Therefore, it will be no surprise that in the wake of the Kalypo craze that has hit town since the presidential aspirant of the New Patriotic Party (NPP), Nana Addo Danquah Akufo Addo was spotted drinking a pack of Kalyppo, a movie will be produced to address it.
Many observers believe the photo is a hoax but it still create a great comical relief and reminds people of the fact that no matter the dire situations Ghanaians may find themselves in, there is always something to laugh about.

However, some people are still hopeful that a movie will come out of the recent Kalyppo media take over but which actor will you like to play which role and why?