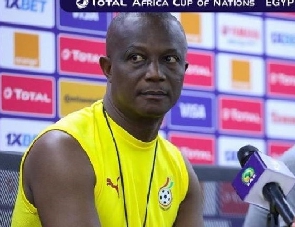 Ghana coach Kwasi Appiah insists the Black Stars cannot underrate the Carthage Eagles of Tunisia based on the past records of the two sides.
The Black Stars are yet to taste defeat in the hands of Tunisia in any AFCON tournament and are optimistic that the record will not be broken.

Despite that, Appiah is wary of his opponents and insists Ghana can't risk underrating Tunisia.

"Right from day one I said you can never underrate any team but I have total confidence in my players.

"They are good and we are motivated going into the game tomorrow," Appiah said at the pre-match press conference.

"Tunisia have a good team and no one should underrate them. We just have to make sure we put up our best to win the game," he added.
The gaffer also noted that football has come of age and Ghana can't afford to rely on past glories.

"In football nowadays you don't have to rely on past achievement so if we have had the upper hand over Tunisia doesn't mean it is going to be easy.

"We just have to prepare well for them and forget about the past.

Tunisia eye a record making appearance against the Black Stars.