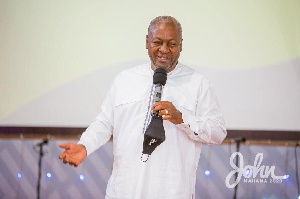 Former President John Dramani Mahama says the Akufo-Addo-led government must accept that its incompetence has plunged the nation into the current economic crisis.
According to him, the mismanagement of the economy, the thirst for consumption expenditure and the desire to spend beyond our means in order to win elections are the cause of the general hardships in the country.

He maintained that the Ghanaian economy is in shambles not necessarily as a result of COVID-19.
"Our debt has ballooned to unsustainable levels- topping 80% of GDP- exposing us to very high risk of debt default. Almost all of our tax revenue is used to service our debt and the effect has been the introduction of several new taxes. This has led to rampant increments in the prices of goods and services. This is primarily responsible for the hardships Ghanaians are going through now.

The former leader and 2020 Presidential Candidate of the main opposition NDC made the point in a Facebook post a while ago.