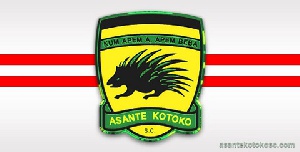 The Communications Department has today opened the media accreditation process for the CAF Confederations Cup match between Kotoko and CARA Club of Congo in Kumasi on Sunday, February 11, 2018.
The deadline for the submission of accreditation applications is Tuesday, February 6, 2018.

The accreditation process requires an official letter indicating the interest of the media house. The accreditation tag to be issued will cater for this season's Africa campaign and will have only the name of media house not names of specific media personnel or their pictures.

The tag will have a QR code security feature which will be confirmed at the T.I. Ahmadiyya entrance point of the stadium on Confed Cup match days.

The letter must be endorsed by the Head of Sports or the Manager of the applicant media house.
Radio stations, television networks and print media will be granted two (2) tags each while a slot goes to each online portal.

Meanwhile, freelance journalists will be considered on a case by case basis.

The application should be sent to info@asantekotokosc.com before 5 pm on Tuesday.