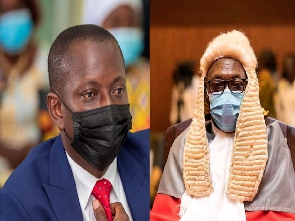 The republic has indicated that it is proving difficult for the state to re-assemble witnesses to testify in the ongoing trial of former COCOBOD boss and businessman.
The Deputy Attorney General and Minister of Justice, Alfred Tuah-Yeboah, disclosed this on Tuesday, April 25, 2023, when the case was called at the High Court (Land Court 2) in Accra.

He told the court presided over by Justice Kwasi Anokye Gyimah that the prosecution has contacted witnesses the state used in the previous trial, but "some are not willing to come and testify" against the accused persons.

The former COCOBOD Chief Executive, Dr. Stephen Opuni, and businessman Seidu Agongo, as well as Agricult Ghana Limited, are facing 27 charges, including willfully causing financial loss to the state and contravention of the Public Procurement Act in the purchase of Lithovit liquid fertiliser between 2014 and 2016.

They have pleaded not guilty to the charges and are on a GH¢300,000 self-recognisance bail each.

Following the retirement of Justice Clemence Honyenuga, who had been hearing the matter since 2018, the case was transferred to another judge by the Chief Justice based on a request by the Attorney General.

The new trial judge, Justice Kwasi Anokye Gyimah, after reviewing proceedings under the previous judge, and assessing the argument by prosecution to adopt the proceedings as well as the counter-arguments, ruled on April 4, 2023, that the case would be heard de novo (afresh).
TWI NEWS

The trial judge, therefore, ordered the parties to file statements they want to rely on in the trial by April 21 and slated April 25 for case management.

But when the court sat on Tuesday, April 25, 2023, the Deputy Attorney General, who represented the state, acknowledged the court's directive but pleaded for time.

"We are here for adjustment of time," Mr. Tua-Yeboah said and prayed to the court to grant the prosecution 30 more days to file the witness statements.

Aside from saying that some witnesses are not willing to testify in court, he told the court that one of the people contacted said he is on retirement.

He claimed one of them also said he spent about two years in the witness box, which appeared deterring.
Counsel for the accused persons did not oppose the request and asked the court to use its discretion.

After consultation with the parties, the judge ruled, "prosecution's prayer is granted, case adjourned to June 7 for case management".

Meanwhile, the Attorney General has appealed against the court's decision to start the trial de novo.

The appeal process is expected to start on May 3, 2023.