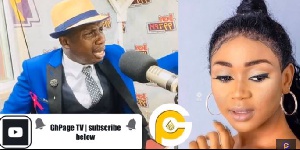 Controversial Counselor, George Lutterodt has taken a swipe at Rosemond Brown, aka Akuapem Poloo, for going nude on Valentine's Day on social media.
According to Lutterodt, Akuapem Poloo is a person suffering from depression needed to seek for medical attention.

Speaking on Adom entertainment hall hosted by Mike 2 and keenly monitored by zionfelix.net, the counselor said, the family of her must be blamed for being irresponsible.

Lutterodt further explained that Akuapem Poloo intentionally showed her nakedness during the photo shoot and he was surprised all the people around her when taking those pictures couldn't fuel some sense into her empty head to stop her useless act.

The outspoken Counselor further mentioned that Ms. Brown is repeating the same mistakes the late Ebony, Christabel Ekeh among others did which their families watched them unconcerned but rather attacked him, Lutterodt for speaking the truth.
Touching on Rosemond Brown's alleged bushy armpit, he claimed he was not surprised because people from Togo do not shave and Akuapem Poloo is from Togo.

"I am telling you that people from Togo do not shave, so am not surprised Akuapem Poloo doesn't shave her armpit, her father is a Togolese so she is a Togolese", disclosed.

She was seen on the social media platforms wearing a long red dress which covered just a tiny part of her body with her boobs and pu**y on display receiving a lot of insults from the general public.

Reacting to get her action, a member of Women of Wisdom, women advocate, Nana Ama Asantewaa condemned the act, adding that the group was preparing to come out with a statement to call her to order.