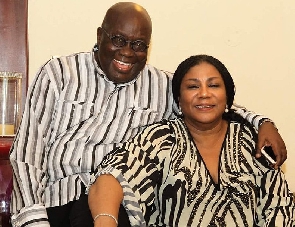 Reverend Lawrence Tetteh has stated that President Nana Addo Dankwa Akufo-Addo owes it to Ghanaians to ensure that a law is passed against same-sex relations in Ghana.
Speaking on Starr Chat hosted by Bola Ray on Thursday, October 26, 2023, Lawrence Tetteh said President Akufo-Addo would not have remarried when he lost his first wife if he believed in the practice of homosexuality.

It is on the basis of his belief in marriage that the clergyman has tasked the president with seeing through an anti-LGBTQ Bill currently before parliament.

"The president has that responsibility; he owes Ghana that responsibility. The President married when his wife died, President Kufuor married, President Atta Mills married, President John Mahama married, President Rawlings married.

"A least we know President Nana Addo lost his wife before he married again. If you believe in gayism, he wouldn't have married again, so, he should please support this bill and that will be the biggest plus any leader will have," he stated.

He emphasised that he is against same sex relationships but clarified that he is against the use of violence on members of the LGBTQ+ community.
"I will not endorse it. What I don't believe in is being violent. We should not be violent; it is a way of life that we should be able to handle but we should handle with a lot of tact and wisdom and also say no to homosexuals. I will say no today and say no tomorrow," he stressed.

The parliament of Ghana since August 2021 has been discussing a bill that seeks to criminalize same-sex relations and advocating LGBTQ rights.

The bill which has received wide support from the religious and traditional leadership front is dubbed Proper Human Sexual Rights and Ghanaian Family Values Bill.


Anti-Gay Bill

I will never support gay rights. I love them but I hate that attitude. What we should not do is to be violent - Preacher, Rev. Lawrence Tetteh on Starr Chat pic.twitter.com/XqADuHIqM5

— Simply The Best!!! (@Starr1035Fm) October 26, 2023
GA/SARA