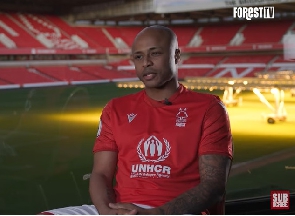 Ghanaian international, Andre Ayew joins the list of four other compatriots who have achieved a milestone of hitting 100 appearances in the English Premier League.
Ayew, 33, joins former Chelsea star Michael Essien, Daniel Amartey of Leicester City, Jeffery Schlupp and Jordan Ayew, both of Crystal Palace, making him the fifth Ghanaian for the recognition as he was presented with a medal.

The Black Stars Skipper first arrived in England to sign for Swansea City in the 2015-2016 season from French side Olympique Marseille before he went on to feature for West Ham United, returned to Swansea for his second stint before finally signing for Nottingham Forest in February 2023.

The Black Stars skipper reunited with trainer Steve Cooper, who Ayew played under during his days with Swansea and played 12 times with a game left to wrap up the 2022/23 season.

In his first season with Swansea, he made 34 appearances and scored 12 goals before he switched camp to West Ham United where he played 43 matches and scored 9 goals during his two-year stint with the Hammers.

He returned to Swansea City in the 2017/2018 season on a year deal, limiting him to only 12 games before he joined Turkish giants Fenerbahce on a season loan.
However, it appears that Ayew has fallen out of favor with Forest's coach, Steve Cooper, leading to his expected departure. As a free agent, he has received inquiries from several clubs in Europe and oil-rich countries.

Despite his age, Ayew is determined to continue playing at the highest level possible in Europe. Sources close to the player have revealed his desire to explore new opportunities and contribute his skills and experience to a new team.

Ayew's track record and his performances have undoubtedly caught the attention of potential suitors. With his wealth of experience and proven ability on the pitch, Ayew remains an attractive prospect for clubs seeking an experienced attacking option.

As the current season concludes, Ayew will take his time to assess his options before making a decision on his next move.

LSN/OGB