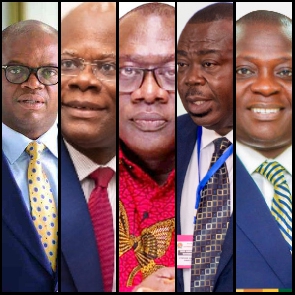 Former National Chairman of the People's National Convention (PNC), Bernard Mornah, has said that President Nana Addo Dankwa Akufo-Addo chose members of the New Patriotic Party (NPP) who have stayed loyal to him in his latest ministerial appointment.
According to him, all the people who were appointed are people who have defended President Akufo-Addo and his appointees no matter how unpopular their actions were.

Mornah, who made these remarks in an XYZ TV interview, on Wednesday, said that the Trade and Industry minister-designate, Kobina Tahiru (KT) Hammond, once called Ghanaian youth, 'coconut heads' after the president was booed at a Global Citizens event in 2022.

"All these people who have been appointed, which of them have not defended the indefensible? KT Hammond insulted young people that they have coconut heads after Akufo-Addo was booed at a Global Citizen event.

"And when Ken Ofori-Atta was under the motion of censure, KT Hammond's theatricals lead to Ofori-Atta being freed. That (his appointment) is the reward for ensuring that we continue to harbour thieves. So, KT Hammond has been rewarded for insulting young people.

"Stika (Dr Stephen Amoah) championed the passage of the E-Levy, he has now been rewarded. Bryan Acheampong sent people to beat and kill people at the Ayawaso West Wuogon and other places, he has been rewarded," he said in Twi.
President Akufo-Addo, on February 7, 2023, appointed Kobina Tahiru Hammond (MP for Adansi Asokwa) as the minister-designate for Trade and Industry and Bryan Acheampong (MP for Abetifi) as the minister-designate for Food and Agriculture.

Other appointments the president made are Stephen Asamoah Boateng, for the Ministry of Chieftaincy; Mohammed Amin Adam, Minister of State at the Ministry of Finance and Osei Bonsu Amoah as Minister of State for Local Government.

Stephen Amoah, the Member of Parliament for Nhyiaeso, was also appointed a Deputy Minister-designate for Trade and Industry.

These new appointments by the president, which were announced by the Speaker of Parliament, Alban Bagbin, come following the recent resignations of Alan Kyerematen as Minister of Trade; Afriyie Owusu Akoto as Minister of Food and Agriculture; Ebenezer Kojo Kum as Minister of Chieftaincy as well as the sacking of Charles Adu Boahen as Minister of State at the Ministry of Finance.

The appointment is, however, subject to parliamentary approval.
Watch the interview below:



IB/WA