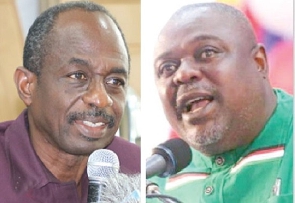 President of the Atta Mills Institute, Koku Anyidoho has asserted that the National Chairman of the opposition National Democratic Congress (NDC), Asiedu Nketiah has proved a bad example to Ghana's politics.
According to the former Deputy General Secretary of the NDC, Asiedu Nketia currently leading the NDC and as one of the most influential figures in Ghana's politics, comes as bad news for youth leaders and many with political ambitions. He believes that the actions and inactions of the now NDC National Chairman are bad precedence for the country's future leaders.

In an exclusive interview on Happy 98.9 FM's "Epa Hoa Daben" socio-political talk show with Don Kwabena Prah, he called for mindset reorientation as he emphasized the significance of the Atta Mills Institute.

"The Atta Mills Institute will target the youth, usually the SHS and JHS through to primary because the whole concept is for mindset transformation and reorientation. Where the country is heading towards is very dangerous especially when you have bad leaders like Asiedu Nketiah as the face of Ghana's politics. If we don't reorient the mindset of our the youth and our children we're dead as a country," he bemoaned.
He further indicated that the Atta Mills Institute will reinstate the spirit of patriotism and nationalism among the Ghanaian youth "and prone personalities like Asiedu Nketiah out of the system".

"When you have dangerous characters like Asiedu Nketiah leading a mass political party, Ghana is as good as ashes. So it's about the concept of patriotism and nationalism. The concept for love of nation that's what President Mills stood for and we believe when we continue to tell that story the country can be inspired and sparked into the light," he added.

Koku Anyidoho's reactions come at the back of the latest change in leadership of the NDC Minority Caucus was announced on Tuesday, January 24, 2023. The former NDC deputy scribe earlier alleged that the decision was influenced by a hideous agenda of the party's newly elected Chairman, Johnson Asiedu Nketiah.