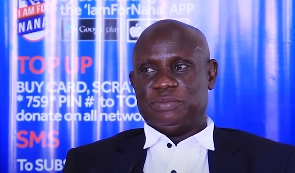 Private legal practitioner lawyer Nana Obiri Boahen has slammed Prophet Isaac Owusu Bempah for storming the residence of Madam Patricia Oduro Koranteng aka Nana Agradaa.
According to him, what the respected man of God did was unlawful and inappropriate.

Speaking on Frontline on Rainbow Radio 87.5Fm, he noted that the man of God could have taken legal action against Nana Agradaa if he felt the woman had wronged him.

But to storm her residence was below the belt, he added.

"You are a respected and revered man of God, and so, for you to storm the residence of Agradaa was terrible and unfortunate. He is my friend, his lawyer is a friend, but he erred in going to Agradaa's house."

Lawyer Obiri Boahen who said he did not want to make prejudicial comments believes the case pending before the court involving the pastor and his junior pastors is the right thing to do.
He said it was for the court to pronounce him either guilty or not guilty.

He advised the man of God to also apologize for his actions irrespective of the case pending before the court.

The Accra Circuit Court on Monday refused bail to Rev Isaac Owusu Bempah, and five members of his church.

They have been charged with threatening to kill Patricia Oduro Koranteng.

The court, presided by Ms Afia Owusuw Appiah, accordingly remanded the five accused persons into police custody to reappear on September 20th, this year.
The five accused persons had earlier pleaded not guilty to offensive conduct conducive to the breach of peace, the threat of death and assault of public officers.

"Nobody is above the law, and so, if Bempah is in court, there is nothing wrong with that. I don't think there is anything wrong with him being taken to court. He is my friend, but if he is standing trial, there is nothing wrong with that," he posited.

"I have not pronounced him guilty or not guilty, but the law should work. I will not condemn the police for arraigning him in court. If I do that, I am not principled," he concluded.