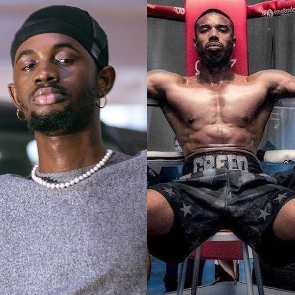 The Ghanaian music sensation, Black Sherif, is set to make his mark on the international stage as he features on the soundtrack of the upcoming Hollywood blockbuster, Creed III.
With American superstar J. Cole's Dreamville Records leading the charge on producing the film's music, Black Sherif's artistry has been called upon to help create an unforgettable audio experience.

The track that showcases Black Sherif's talent, 'Blood, Sweat & Tears,' features him alongside American rapper Bas and Nigerian producer Kel-P.

This collaboration promises to be an electrifying fusion of African and Western music genres, guaranteed to keep audiences engaged and excited.

Fans and music lovers have already taken to social media to express their excitement for the song, with the soundtrack's first single, 'Ma Boy,' already gaining traction.

Black Sherif's involvement in the project is yet another milestone in his already illustrious career, proving that he is destined for global recognition.
As Black Sherif's star continues to shine bright, he has once again demonstrated that his artistic prowess knows no bounds.

With 'Blood, Sweat & Tears' set to feature in the highly anticipated Creed III film, he has cemented his place among the world's most talented musicians, and his legacy is only just beginning.

Watch the latest episode of Talkertainment below:



Watch the latest episode of Nkommo Wo Ho below:




Watch the latest episode of E-Forum



ADA/OGB