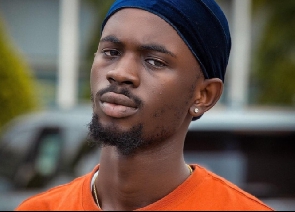 Ghanaian musician, Black Sherif, has lashed out at a critic who claimed that he has made a pact with the devil.
The critic made the assertion while Blacko was interacting with his fans on Instagram Live, a situation which necessitated a wild reply from the latter.

In his response, Black Sherif said the individual making such allegations would have been the one to sell his soul if he knew where it was being sold.

"Jon! You dey wan sell your soul pass me saff. If you knew where people buy souls, you would've sold yours. Child of a sheep! Do you know where people sell souls?" Blacko stated in pijin mixed with English.

Speculations of joining a high secret society heightened when satanic imagery (Baphomet) was displayed during Black Sherif's concert in New York.

The creature was displayed as a backdrop at the Palladium Times Square, where hordes of enthusiastic fans gathered to witness his thrilling performance.
Black Sherif hasn't sold his soul yet - Pundit asserts amid controversial Baphomet image

Earlier in a discussion on GhanaWeb's E-Forum, entertainment pundit, Vida Adutwumwaa Boateng, said despite the recent controversy surrounding his performance in New York, has not yet sold his soul to the devil.

She acknowledged his breakthrough success but emphasized that she sees even greater achievements in his future before considering the possibility of him making such a pact.

"I don't think Black Sherif has sold his soul as of yet; even though he has broken through, I feel there are bigger things ahead of him, and then after that, we can say he has gotten to this level for him to sell his soul," she observed.

Watch the video below:
Click here to start the nomination process for the 2023 GhanaWeb Excellence Awards
Ghana's leading digital news platform, GhanaWeb, in conjunction with the Korle-Bu Teaching Hospital, is embarking on an aggressive campaign which is geared towards ensuring that parliament passes comprehensive legislation to guide organ harvesting, organ donation, and organ transplantation in the country.
EB/NOQ