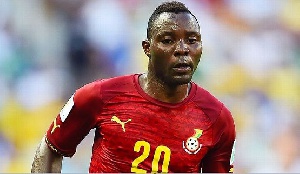 Ghana international Kwadwo Asamoah has set sights on winning 2019 Africa Cup of Nations despite the Black Stars early struggles in the qualifiers.
After a four years absence, the 29-year-old made a comeback to international football in the 1-0 defeat against Kenya in Nairobi last weekend. However, he is with high hopes that the Black Stars can qualify for Cameroon and end the 36-year wait for Afcon trophy.

"Ghana is one of the countries that can win the [2019] Africa Cup of Nations title. It is one of the things I want to win with my country," Asamoah told Joy Sports.
"I pray and hope that we work together and stay focus because everything that we intend to achieve needs hard work and focus as well as unity," he added.

Ghana, who are leading the pack in Group F with three points, have made it to the semifinals of the Afcon on six consecutive times since 2008, including two finals where they lost to Egypt and Cote d'Ivoire in 2010 and 2015 respectively.