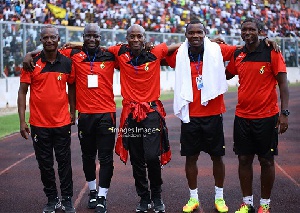 Ibrahim Tanko has revealed that the technical bench of the team will meet to deliberate what's ahead of Ghana, following CAF decision to disqualify Sierra Leone from participating in 2019 Africa cup of Nations qualifiers.
Sierra Leone has been disqualified from the Africa Cup of Nations qualifiers after they failed to adhere to the instructions of FIFA.

Their doubleheader against Ghana last month was cancelled due to the consistent interference of the Sierra Leone government in football.

And according to the Black Stars assistant coach, the technical team will meet to work out the future ahead of CAF decision to have one or two slots from Group F siding for AFCON 2019 will be laid to rest.

"We are going to meet as a technical team to see the way forward of effects awaiting" We must win our last game against Kenya at home, then we can avoid all these calculations if it's two teams to make it from our group," he told Joy FM.
"We will be through if one slot after beating them and that's the main thing to concentrate on because we never know what will come", he added.

Group F members stand dismay as how many slots will be given to the group for next year tournament.

However, Confederation of Africa Football (CAF) are yet to release the statement to its effect in the coming days.

Ghana place second in Group F with 6 points whilst Kenya has 7 points on top of the Group.