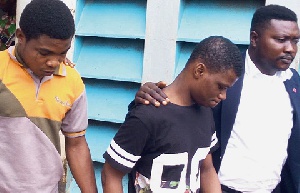 Alleged killer of the Member of Parliament (MP) for Abuakwa North, late Joseph Boakye Danquah-Adu, Daniel Asiedu, is said to be pampered by the police.
Ever since his arrest, the suspect is purported to be treated with kid gloves.

Daniel Asiedu, according to sources, keeps on complaining about almost everything which his handlers keep yielding to his frivolous requests.

The sources said the suspect has been moving from one cell to another upon his request.

At the last court sitting, the court was informed that "Daniel Asiedu has been once again transferred from the Legon Police cells to the Kotobabi Police Station after complaining of harassment at the hands of his Nigerian cell mate."

The explanation for the transfer was that the Police Criminal Investigations Department (CID) took the decision to protect him from further harassment.
According to our checks at the Ghana Prisons Service, Daniel Asiedu has been transferred four times since his arrest.

Thus, he was moved from the Bureau of National Investigations (BNI) to Accra Ministries Police cells, and then to Legon Police cells and now Kotobabi Police cells.

Meanwhile, Presiding Judge, Justice Stephen Owusu, who is adjudicating the case, has adjourned the case to August 19.

The adjournment was due to the absence of the prosecutor in the case, Inspector Francis Baah.