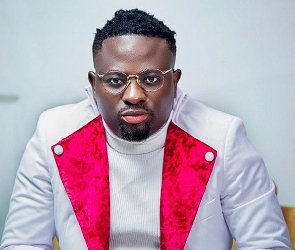 • Brother Sammy readies for an encounter with Cecilia Marfo
• Brother Sammy, Cecilia Marfo expected to be at an event next week

• Cecilia Marfo continues to stir up controversies with her actions

"Once bitten, twice shy"! - An adage which now seems to be Brother Sammy's guide as the gospel musician has hinted at arming himself with a pair of scissors for a battle against colleague Cecilia Marfo.

'The Nation's Worshipper', as he is affectionately called, during an interview on UTV's United Showbiz, Saturday, said due to his experience with Cecilia Marfo, he will not leave anything to chance. Announcing that their paths will cross soon, Brother Sammy said he will defend himself with a pair of scissors when the need arises.

"I have a programme at Ashaiman next week and she's also expected to be there. So, I'm well prepared for this programme because I know what Cecilia Marfo can do", he said.

For years now, Brother Sammy has been painting a picture of how he received a resounding slap from Cecilia Marfo at the Baba Yara Sports Stadium, Kumasi, in 2017, an incident he said he would never forget.
But that is not the only incident that has informed his decision to carry a weapon to the church.

"I saw what she [Cecilia Marfo] did to a gentleman called Paul Ammantem at Assemblies of God Church, Lapaz. The gentleman had a punk hairstyle. During a song ministration by Cecilia Marfo, she prayed in tongues, called Paul, pulled out a pair of scissors and cut Paul's hair. So, I'll be at the event with scissors. She is unpredictable. If I spot her coming towards me during song ministration, I'll brandish the scissors", Brother Sammy humorously said.

Cecilia Marfo, a musician who doubles as a pastor, has on several occasions become a subject for discussion as a result of what some describe as an 'unconventional approach' to issues.

In January 2021, for instance, Cecilia Marfo, said to have been consumed by the Holy Spirit, snatched a microphone from Joyce Blessing during a musical performance on stage, asking the estranged wife to go back to her husband.