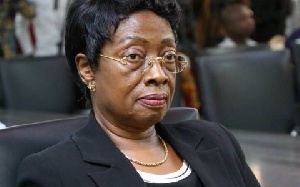 Since its inception, the COVID-19 National Trust Fund has received GH¢65,467,911.71 in cash and in-kind donations.
This was revealed when the Board briefed the Presidential Press Corps on the disbursement and total contributions received.

GH¢58,020,508.91 had been disbursed for major projects, programmes, activities, and interventions.

Justice Sophia Akuffo, former Chief Justice, revealed this to the Press Corps.

She also revealed that the COVID-19 National Trust Fund Board of Trustees has paid GH¢7,447,402.80 into the Consolidated Fund.

The payment was the remaining balance after deducting all contributions received.
The payment was required because the trustee's work ended on Thursday, August 31, 2023, after three years and six months of operation.

Its mandate expired following the President's declaration in his COVID-19 address on May 28, 2023, indicating the end of the Fund's work.

She said that "altogether, the Trust Fund received contributions in cash and in-kind from over 447 individuals, corporate bodies, and other social groups to whom there can be no words sufficient to convey the depth of our gratitude.

"On behalf of the Board of Trustees, we thank His Excellency Nana Addo Dankwa Akufo-Addo, the President of Ghana, for the immense trust he reposed in us to function under Act 1013. We are confident, and our audited books will no doubt show that we have executed our duties well," she remarked.