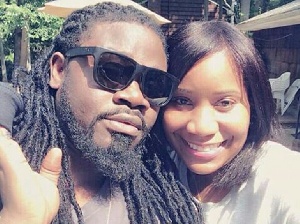 Controversial counselor, George Lutterodt, has alleged that musician, Captain Planet, married his wife Uche Ofodile, not out of love but money.
Lutterodt reportedly made this allegation in an interview on Okay FM, according to a report sighted by YEN.com.gh on Pulsegh.com.

Captain Planet was part of the defunct popular music group 4X4, which was known for back to back hits in the mid-2000s.

He married Uche Ofodile in 2014, when she worked with Vodafone in Ghana. Uche now works as MTN CEO in Liberia, where she is reported to be living with Captain Planet.

However, the controversial Lutterodt claims their marriage is not a "relationship but rather an entrepreneurship" because, according to him, Captain Planet is in just for financial gains.

According to Counselor Lutterodt, Uche is far older than Captain Planet, therefore she is his big sister and must be accorded that respect.
"There are some marriages that are called entrepreneurial marriage. So, there are so many marriages in this country that's entrepreneurial marriage meaning you're marrying for support. There are people who are marrying their producers; people who are marrying their marketers. So, if somebody has a career and you find anybody who has money and you go and marry the person, it doesn't mean that you're in for love. You're in for support", Lutterodt said.

He claimed that Captain Planet's entire life was tied to the apron of Uche, and so he dared not disrespect her otherwise he would face dire consequences.

Lutterodt asserted that there was no love in Captain Planet and Uche's marriage, adding that the musician was only enjoying the body of the MTN CEO.

Captain Planet and the Liberia MTN CEO got married on June 20th, 2014. They were captured at many events together prior to and after their marriage.

Captain Planet even mentioned Uche's name in some of his song when he was part of the 4X4 group.