'Caretaker of Rev Anthony Kwadwo Boakye will inherit the sickness that killed him'- Apostle Amoako Atta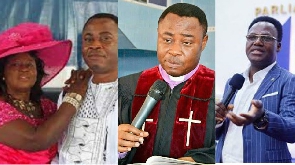 The Founder and leader of the Lord's Parliament Chapel International, Apostle Francis Amoako Attah, has prophesied that the caretaker of the late Rev. Anthony Kwadwo Boakye of Resurrection Power New Generation Church (RPNGC) will inherit the same sickness that killed him.
The man of God added that three additional leaders of the church will suffer from diabetes.

Speaking in an interview with Angel FM, monitored by GhanaWeb, Apostle Francis Amoako Atta added that he's willing to pray for the entire family of the late pastor to avert the pending danger.

"I want to let them know that the deaths have not ceased, the caretaker will inherit the same sickness that killed the man. He will get diabetes, three of the leaders. I have to pray for his wife, or else she might die before the year ends. I am pleading with the family to come together," he said.

He added that the late Pastor Boakye would have publicly died on the altar of his church if he was brought to the church during his sick period.

Rev. Anthony Kwadwo Boakye passed away on February 21, 2023, at the Korle bu Teaching Hospital, according to a statement issued by the church.
He suffered from a stroke in November 2021 leaving him bedridden. He subsequently sought extensive medical care at private facilities before he was referred to Korle Bu Teaching Hospital at a point.

When news of his passing broke on Wednesday, February, 22,2023, many members of the church trooped to the premises of his church at Ngleshie Amanfro near the Kasoa toll booth.

It may be recalled that Rev Anthony Kwadwo Boakye in November 2022 told his church members that he died and was resurrected after five days.

"I am a living testimony...I have died and resurrected... Because of my strong faith in Him [Jesus], He resurrected me, when I died. If you have not heard it before, yes, I died. My body was kept in the house for five days. Here I am, alive and kicking," he said in a video message to his church.


Watch the latest edition of BizTech and Biz Headlines below:








Watch the latest edition of Business Moments below:





AM/SARA