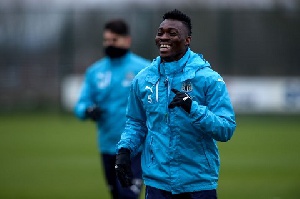 Christian Atsu has told of his joy after signing for Newcastle United. The winger spent this season on loan from Chelsea.
And Newcastle took up a £6.2million buy option in the Ghana international's loan. Atsu has signed a four-year deal at St James's Park.

The 25-year-old wrote on Twitter: "I'm delighted to sign permanently for @nufc! Can't wait to get started next season."

Atsu scored five goals for Newcastle in the Championship. United manager Rafa Benítez said: "We are happy to sign a good player.

"He's shown us that he's a good professional and someone who is very keen to learn and improve. "Christian has been a key part of our promotion campaign and he wants to help us to build something for the future."

The transfer is subject to Atsu successfully reapplying for a work permit. Meanwhile, goalkeeper Rob Elliot says Newcastle will be looking to do more than just survive in the Premier League.

"I think you'd be naive to stay you are not looking just to stay up," said 31-year-old Elliot. "You've got to look at that first and foremost before you even think about where you want to finish.
"In my personal opinion, you get to 40 points as quick as quick as you possibly can and then you look to see where you can finish.

"But the manager is really big on just taking each game as it comes, and I think that's what we will do next year. "Hopefully, it will just be a good season all around for the club, get some stability back and make sure we are in the Premier League again and go from there."

United averaged crowds of more than 51,000 at St James's Park this season. "The atmosphere this year has just been amazing," said Elliot.

"Hopefully, it will just keep growing and the connection between the fans, the players and the manager will just keep growing and taking us forward.

"Going into next year, we will have some tough games at home, so hopefully we can get that edge back with the atmosphere at the ground and that can help us get us over the line a few times."