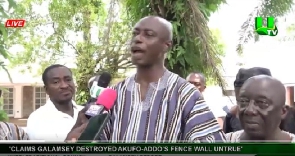 An uncle of President Nana Addo Dankwa Akufo-Addo has denied that a portion of the president's private residence in his hometown of Kyebi, was affected by illegal small-scale mining (galamsey).
Speaking to journalists on April 27, 2023, after a visit to the house, Chief of Kyebi, Osabarima Marfo Kwabrane said it would be important that former minister of environment, Prof. Kwabena Frimpong-Boateng be invited to the residence to prove otherwise.

Frimpong-Boateng in a recently leaked 2021 report claimed that he had to send machines to reclaim and revegetate a portion of the president's residence after it was affected by the effects of galamsey perpetrated by a New Patriotic Party local official.

"I would humbly have loved that Prof. Frimpong-Boateng comes here to show us the exact place the galamsey was being undertaken, maybe he knows this house than we do.

"As for myself, having grown in Kyebi and stayed here all my life, maybe he can come and show us (evidence) because the shame he is heaping on my niece is not nice.

"If he (Akufo-Addo) has helped Ghana till this stage, is it galamsey that is going to help him…" the uncle asked.
The 36-page report by Frimpong-Boateng during his tenure as chairman of the government's anti-galamsey taskforce has elicited a number of rebuttals, refutation and challenge for evidence as well as threats of legal action by some persons mentioned.

The presidency via a statement said it was a catalogue of grievances and that the report was not formally submitted to the Office of the President.


Kyebi Traditional Council has rejected claims that galamsey activities led to the destruction of Prez. Akufo-Addo's fence wall in Kyebi#UTVNews pic.twitter.com/BaFUG5UyqA

— UTV Ghana (@utvghana) April 27, 2023
Meanwhile, watch the latest episode of People and Places on GhanaWeb TV below:


Watch the latest episode of The Lowdown below:






SARA