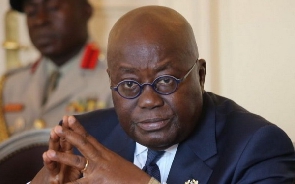 President of the Chamber of Local Government (ChaLoG), Dr. Richard Fiadomor, has claimed that the government has planned to avoid payment of the District Assembly Common Fund (DACF) hence the delay in announcing the list of the Metropolitan, Municipal and District Chief Executives (MMDCEs).
Dr Fiademor said on the Key Points proramme on TV3/3FM Saturday September 18 that "the government has delayed because the government doesn't want to pay the District Assembly Common Fund for the year 2021."

"The delay is deliberate," he stressed.

Reacting to this claim, the Director of Communication for the governing New Patriotic Party (NPP), Yaw Buaben Asamoa denied the claim saying, that comment was just an opinion being expressed on the matter but not fact.

"You have expressed your opinions on this matter but your opinions are fact. This has got nothing to do with the Common Fund."

President Nana Addo Dankwa Akufo-Addo has finalised the list of metropolitan, municipal and district chief executives (MMDCEs) to be nominated to serve in the next three-and-a-half years.
The list is expected to be received by the Minister of Local Government, Decentralisation and Rural Development, Daniel Botwe, Thursday morning for onward announcement.

These were disclosed by the Director of Communications at the Jubilee House, Eugene Arhin.

"Expect the list to be announced by the Minister very soon," he wrote on his official Facebook page on Wednesday, September 15.

Delay in nominating chief executives for the various metropolitan, municipal and district assemblies (MMDAs) has been a matter of concern to many groups and individuals.

In July, ChaLoG accused President Akufo-Addo of employing "unnecessary" and "unproductive" processes in nominating MMDCEs.
"ChaLoG wishes to call on the President to urgently come to terms with the negative impact his actions and inactions which has led to the delay in nominating MMDCEs to be confirmed by the Hon Assembly Members, is having on the smooth administration of the MMDAs," it said in a press release on Sunday, July 25.

The President had issued a directive through the Chief of Staff, Frema Osei Opare, for MMDCEs from his first term to continue acting in office.

This issue was dragged to court by Member of Parliament for South Dayi Constituency Rockson-Nelson Dafeamekpor.

ChaLoG felt that directive has hampered progress in the local assemblies.

"As a result of this directive, all the MMDAs across the country have not undertaken any new projects even though they continue to collect Property Rates, Business Operating Permits, Markets and Lorry Tolls from rate payers, yet no capital projects are being undertaken by the Assemblies seven months into the year 2021."