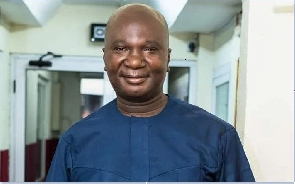 Black Galaxies team manager, Edmund Ackah, has disclosed that he was wrongly accused by Deputy Sports Minister, Evans Bobie Opoku, during the 2023 Championship of African Nations (CHAN).
He said the Opoku Bobie accused him of leaking information to the Media during the tournament in Algeria.

According to the FC Samartex 1996 General Manager, he has a fractious rapport with the minister because the accusations were false as he rather worked to ensure the team stuck together.

"At a point, I was not happy when the Deputy Sports Minister (Evans Bobie Opoku) accused me wrongly during the tournament and since then, our relationship is now soured. I was always putting in an effort to ensure there is calm at the camp. I was accused of giving out sensitive information to the media, specifically, Asempa FM," he said as quoted by FootballGhana.

He revealed that he intended to resign but some officials convinced him to reconsider.

"Anytime I am working and I don't feel happy, I resign and that is what I did at Asante Kotoko but I will never leak information to the media. I was left unhappy but some team officials came to me and asked me not to react," he added.
Prior to the Black Galaxies opening game at the tournament, the Ministry was accused of not settling the team's qualification bonus and other incentives.

The players eventually received their bonuses on the eve of their opener against Madagascar.

The Black Galaxies exited the tournament in the quarter-finals after a defeat to Niger.

EE/DO