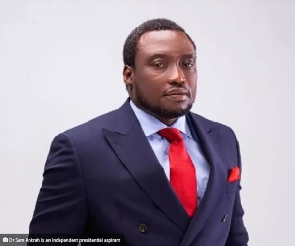 Investment banker, Dr. Sam Ankrah has called on the economic managers of the country to develop a sustainable roadmap aimed at restoring confidence in the Ghanaian economy.
According to him, the roadmap, when well developed, could help regain the weaning confidence in the economy, particularly for investments.

Speaking in an interview with Graphic Business and monitored by GhanaWeb Business, Dr. Ankrah who is also president of the African Investment Group pointed out that the just concluded Domestic Debt Exchange Programme (DDEP) has threatened to wipe out investor confidence in the economy and therefore requires measures to regain confidence.

"Confidence in the economy at an all-time low, what would be required to restore sustained growth in the economy were pragmatic investment plans that had the potency to revive the most productive sectors of the economy and create the needed jobs," Dr. Ankrah is quoted by graphiconline.com

He further opined that the implementation of the DDEP has impacted the investment plans of many investors adding that the transaction has contributed to low confidence in the economy.

Dr. Ankrah, however, urged government to be transparent with citizens even as it seeks a bailout from the International Monetary Fund as well as conduct the needed recovery programmes to restore the ailing economy.

"Although it is envisaged that an International Monetary Fund (IMF) agreement with the country will automatically restore confidence in the markets, and subsequently attract the needed direct foreign investment to cover the financing gap, prudence is key," he added.
He further continued, "this shows that there is a need for serious measures to be implemented in both revenue mobilisation and cutting down on costs".



Watch the latest edition of BizTech and Biz Headlines below:






Watch the latest edition of Business Moments below:





MA/FNOQ