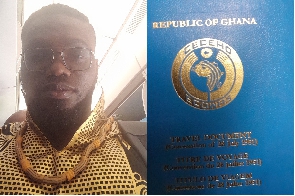 David Hundeyin, a Nigerian journalist currently travelling on a Ghanaian refugee passport has appealed to Ghanaian authorities to maintain his asylum status citing relentless moves by his government to have him sent back to Abuja.
Hundeyin known for his controversial style of investigative journalism has authored hard-hitting pieces about the current president Bola Ahmed Tinubu, calling into question his academic credentials and serially reporting on Tinubu's past dealings in narcotics.

In a 16-minute-long Twitter (now X) video posted on September 20, Hundeyin called on president Nana Addo Dankwa Akufo-Addo, the interior minister and head of the refugee board to protect him.

He stated that as a person of interest back home in Nigeria, solely because of the work he was doing, he had reasonable fears that the government will deal ruthlessly with him.

Citing the major reason for which he is wanted back home, he alleged that Tinubu, as chairman of the regional bloc, ECOWAS, had given orders for special Nigerian commandoes to enter Niger and reverse the July 26 coup; which document he subsequently published thwarting the alleged move.
"Now, after I leaked this document, I was made aware from several sources that the Nigerian military establishment and the Nigerian intelligence establishment became essentially particularly enraged with me.

"So, I've been a person of interest for a long time, but with that I became designated as something of an enemy of state," he stated.

He appealed to Ghana, which he described severally as a nation that was friendly to asylum seekers to continue to bear that torch and to do all it takes to protect him and by so doing resist pressure from Abuja.

How Hundeyin came to live in Ghana:
"President Nana Addo Dankwa Akufo-Addo, the Ghanaian Minister of the Interior, Honorable Ambrose Dery, and to the Chair of the Ghana Refugee Board, Prof Kenneth Attafuah.

"I fled Nigeria in 2020 and I applied for asylum in Ghana in early 2021. In May 2022, I was granted refugee status in Ghana. Consequently, I was also issued a Ghanaian refugee travel document, a refugee passport, which I have subsequently used extensively to travel across Africa and around the world," he narrated.

Final appeal

I hope the Ghanaian government does the right thing. I have faith in them. They've always done the right thing, more often than not. There are so many more people like myself who have found a safe refuge and a home in Ghana.
I think it would be a very sad thing if that reputation that this country has built for itself should be damaged because of an illegitimate president in Nigeria who is essentially trying to personalise the apparatus of state and use it to pursue his personal vendetta around the world.

So that's all I have to say this evening.

Thank you for listening.

SARA
Click here to start the nomination process for the 2023 GhanaWeb Excellence Awards

Ghana's leading digital news platform, GhanaWeb, in conjunction with the Korle-Bu Teaching Hospital, is embarking on an aggressive campaign which is geared towards ensuring that parliament passes comprehensive legislation to guide organ harvesting, organ donation, and organ transplantation in the country.

You can also watch this episode of People & Places on GhanaWeb TV: