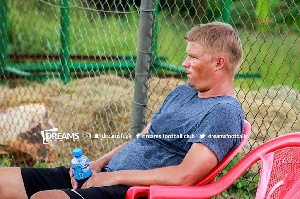 Head Coach of Premier League side Dreams FC, Juha Pasoja is worried by the player exodus at the club following the departures of some of his key players.
Captain Leonard Owusu, striker Zeberu Sharani and George Dwubeng are amongst the club's top players to leave in the transfer window.

Leonard Owusu joined Israeli club Ashdod FC, Sharani moved to Czech giants Sparta Prague with George Dwubeng signing for Romanian club Politehnica.

The departures of all these stars has left the manager with a challenge of finding replacements as the team prepares for the return of the top flight league.
"Many players are going and it is leaving a big hole in the team," the Finish trainer told Dreams TV.

"But we need to find the players to fill these holes for us to move ahead."

Dreams FC finished the first half of the season in 5th position.