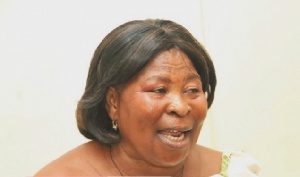 Presidential aspirant for Ghana Freedom Party, Madam Akua Donkor says she was very disappointed to hear Ghana's female U-17 team could not afford sanitary pads in Jordan where they are representing the country at the FIFA U-17 Women's world cup.
The maidens who secured qualification to the next round of the tournament after finishing second in Group D made up of Japan, USA and Paraguay, are yet to receive their per diems due to the "no money" syndrome at the sports ministry.

Management committee chairman of the team, Augustine Asante earlier revealed the team was struggling with finances far away in Jordan, and the players could not afford airtimes to call their parents back home nor afford their own sanitary pads.

Speaking to Spice FM, Madam Akua Donkor lambasted the handlers of the team and called for the right thing to be done.

"It was a pity when I first heard the issue; it was very disheartening when I heard it."
"How much will it cost a team to afford sanitary pads and how much will it cost the country to provide for these young girls?"

"I think leaders of the team should be doing more than they have done so far." She said.

The Black Maidens are scheduled to play Korea DPR in the quarter-finals of the FIFA U-17 Women's World Cup on Thursday at 13:00 GMT.