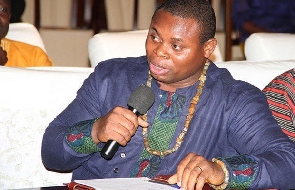 Presidential Staffer Krobea Kwabena Asante has defended Vice President Dr. Mahamudu Bawumia's pledge to appoint ten New Patriotic Party (NPP) members from each of the 275 Constituencies into government positions when he gets the nod to lead the NPP and eventually become President.
Founding President of policy think tank Imani Africa Franklin Cudjoe had dismissed the proposal by Dr. Bawumia as having no vision at all and amounting to parking the bus, describing it as a waste.

"My man, please this is no vision at all. Certainly not when we have been inundated with the same by your boss that partly crashed the economy. Alas, competence will be sacrificed. In football, it is called ' parking the bus'. You are better than this. This is called waste, not vision," Cudjoe, an admirer of Dr Bawumia wrote.

But Krobea Kwabena Asante hit back, explaining that the policy is feasible and that only competent NPP members will be appointed.

"Having read a weak antithesis from Franklin Cudjoe on Dr. Mahamudu Bawumia's at least 10 slots to each constituency when he becomes President with his ongoing campaign tour and Constituency surgeries. I would like to address Franklin Cudjoe here.

"Dr. Bawumia made it clear that Presidents can appoint about 7k people and that at least he will give each constituency 10 slots making 2760. With the 10 slots, the constituency party shall select 10 QUALIFIED and COMPETENT PEOPLE p from the constituency so the 10 will know that they got the appointments through the local party and shall not renege on their party responsibility This is to close the gap between the party and government. No Appointee can lord himself over the parry since they selected them. If any does that, the whip system will work locally and nationally.
"What makes Franklin think he is more competent than others? Even with his small IMANI Ghana, he has appointed about 3 Vice Presidents with an honorary Vice President.

"His lazy commentary is also known as 'stomach direction' in football. He does not wait to listen to the entire speech but goes ahead to say anything because his stomach has directed him to do that.

"Nido Man must come again," he argued.

Meanwhile, Dr. Bawumia's proposal seems to have gone down well with many of the delegates who expressed satisfaction with the proposal, saying that it will strengthen the party at the Constituency level