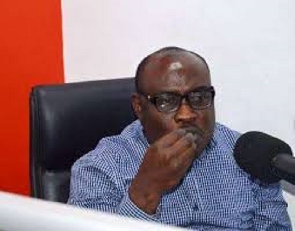 A communications team member of the National Democratic Congress (NDC), Kwaku Boahen, has suggested that commercial vehicles should be exempt from the planned rei-ntroduction of the tollbooth levy.
The levy currently suspended, affected all types of vehicles plying the country's major roads.

Two years after the suspension, the government is considering reintroducing the levy.

The proposed rates were contained in a leaked letter to the Roads Ministry from the Finance Minister, Ken Ofori Atta.

"Per the revision, motorbikes are expected to now pay 50p, while saloon cars pay GHC1, heavy buses will now pay GHC2 with heavy good trucks paying GHC3. Light buses will now pay GHC1.50, agriculture tractor and trailers paying GHC1," the letter signed by Ken Ofori Atta explained.

But speaking Wednesday, March 15, 2023, on Angel 102.9FM and Angel TV, Mr. Boahen said exempting commercial passenger vehicles popularly called 'Trotro' and Taxi, would go a long way to alleviate the suffering of the masses, who mostly patronise the services of such transport system.
The former Deputy Communications officer of the biggest opposition party, NDC, indicated that although he is much concerned about the governing NPP's inconsistency, he believes the re-introduced road toll levy should be carefully implemented.

"So, my suggestion is that they [government] apply exemption to the road toll rei-ntroduction.

"Trotro and taxis should be exempt and allow the ownersof hhigh end vehicles like the 4×4 and tipper trucks … to pay," he stated.

According to him, the burden on drivers of the aforementioned vehicles [taxi and trotro] is unattainable, hence, his call.

Asked whether taking such decision could not amount to discrimination among other road users, Mr. Boahen responded "No" and said that, it should be done in a regulatory manner.