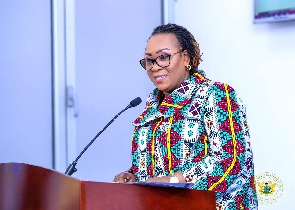 The Minister of Fisheries and Aquaculture Development, Mrs Mavis Hawa Koomson, has assured of strict enforcement of the fisheries law, to ensure sustainable use of the country's marine resources.
According to her, marine fish catch continued to decline due to overfishing and overexploitation and there was the need to reverse the trend.

"Catch per unit of effort (CPUE) of all fleet are declining except tuna fleets. Fish landings of key marine species like sardinellas are at their lowest levels and of much smaller sizes," she emphasized.

Mrs Koomson who was addressing journalists at the Sunday edition of the minister's briefing, organized by the Ministry of Information, in Accra, on Sunday, said her outfit had put in place a number of measures to boost the country's fish resources to the benefit of both present and future generations.

She explained that the closed season, which commenced in 2016, was in accordance with section 84 of the fisheries Act 2002 (Act 625) and the national marine fisheries management. Plan 2015-2019.

Mrs Koomson noted that as part of the enforcement of the laws, some five individuals, who violated the law, were before the court, and 30 generator sets were seized from some fishermen.

She said to ensure operational efficiency; the government was acquiring four boats for regular patrols on the sea.
Mrs Koomson said the boats would help the security agencies police marine life and ward off fishermen who exploited the country's sea illegally.

"The four patrol boats will be deployed in each of the four coastal regions; Central, Greater Accra, Volta and Western regions, for frequent inspection at sea, offshore and for prompt response to detecting infringements at the VMS centers," she said.

Mrs Koomson said the government was reviewing the laws and policies regulating the sector.

This she said was to enable the law to take into consideration new development within the fisheries sector and to deal with current trends.

Mrs Koomson said a new National Fisheries Management Plan was also underway since the previous one expired in 2019.

She said the National Fisheries and Aquaculture Policy, which was developed in 2008 was also under review.