Crime & Punishment Fri, 21 Sep 2018
Forestry Guards arrest 8 illegal miners in Atiwa Forest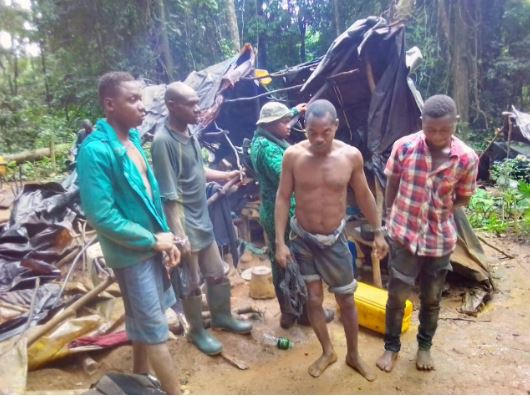 Guards of the Forestry Department have arrested eight persons who were caught in illegal mining activities in the Atiwa Forest reserve.
ADVERTISEMENT
Four of the suspects; Kwaku Ampaabeng, 32, Kwabena Apaw, 39, Evans Ahenkorah,33 and 55-year-old Yaw Effah Boateng, were rounded up last week by guards of the Forestry Service Department in Kyebi.

The forest guards, as part of efforts to clamp down on the destruction of forest reserves on Thursday also apprehended Emmanuel Mensah, 26, Rashid Alhassan, 50, Zule Ali, 45 and Emmanuel Owusu, 23.

According to the Kyebi Range Manager, the illegal gold miner in the heart of the forest reserve between Akwadum and Potroase have cumulatively destroyed 15 hectares of the forest reserve.
ADVERTISEMENT
Jones Agyei Kumi explained that the two rivers polluted by the miners drain into river Densu which provides water for about 5 million people for both domestic and agricultural uses.

All the eight suspects are Ghanaians who hail from Akim Oda and Prankese in the Eastern region.

They are currently in the custody of the New Juaben district police command awaiting prosecution.
ADVERTISEMENT