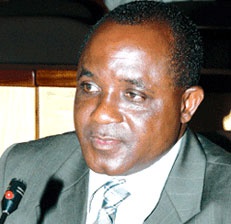 Tue, 4 Nov 2014 Source: Daily Guide
Ibrahim Issaka Lan-Gani, the Assistant Commissioner of Immigration at the Kotoka International Airport (KIA), who is testifying at the trial of the former Member of Parliament (MP) for Nkoranza North, Eric Amoateng, yesterday admitted that he wouldn't know if the former MP could tell whether or not the passport was fake.
He however said it could be the case because the accused person expressed shock when he informed him that the passport was fake.

The witness said this in an Accra Circuit Court presided over by Ellen Vivian Amoah when he was being examined by Charles Puozuing, counsel for Eric Amoateng who has been charged with fraudulent acquisition of passport.

The Assistant Immigration Commissioner said that before the introduction of biometric passports, a person didn't have to be physically present to secure a passport.

Puozuing put it to the witness that it was because he was a document expert that he was able to tell that the tank track and picture had been tampered with but the accused person could not have known, to which he (witness) said he could not tell.

He also said he could not tell whether or not a person could identify features on a passport to know whether or not it was fake.
In addition, the officer said he had been at KIA for three years and said there were occasions when persons were deported without him receiving documents on them when they arrived. The case has been adjourned to November 10, 2014.

The witness, when asked what observations he made about the passport of the former MP, told the court at the last hearing that he first counted its pages and realised that the pages were intact, noting that the pages were 32.

In addition, he said a closer look at the passport however indicated that the photo was substituted and the third digit and readable zone were not correct.

Furthermore, he said the tank tracking of the passport had double track instead of single, indicating that someone had worked on the picture.

Amoateng, a teacher and farmer, had spent over seven years in a United States of America (USA) prison where he was jailed in connection with heroin-related offences.
The passport Amoateng used in flying back to Ghana was originally issued to a lady called Barbara Inkoom with passport No. H2347080.

The passport was issued in Accra on February 23, 2009, at which time the suspect was still in prison.

The suspect was granted bail in the sum of GH¢200,000 with three sureties, one to be justified.
Source: Daily Guide