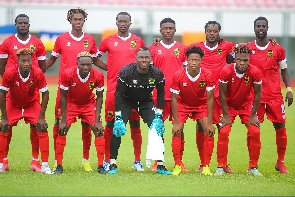 Henry Asante Twum, the Communications Director of the Ghana Football Association (GFA) has said no referee in the ongoing 2022/23 Ghana Premier League season intends to rob Asante Kotoko.
The fans of the Porcupine Warriors have questioned the decisions of match officials.

According to them, some decisions of the referees have cost them several points in the ongoing season.

The irate fans cited a controversial penalty call in Kotoko's match against Karela United on matchday 15.

However, Asante Twum recognizes the issues with officiating but disputes the notion that the federation is involved in any deliberate cheating or influencing of results to benefit certain teams.

"I'm not sure cursing referees is the best way to go, we can't improve officiating by cursing referees. If that is the solution then Ghana would have cursed the centre referee who officiated the World Cup game between Ghana and Portugal," he told Kumasi-based Akoma FM.
"No referee will deliberately decide to cheat Kotoko, I report the referee's performance to the review committee and the referee's manager after games that I watched.

"There are situations where we all know the referee's performance is not at the level we want it to be but for someone to think that the FA manipulates referees to cheat a particular team is unfortunate, and there is nothing like that," Asante Twum said on Akoma FM.

He also stated that the FA will prohibit officials from personally determining the outcome of a game while urging Kotoko to reconsider their perception of the FA's influence.

"However, the only way we can improve our game is to win fairly. We won't encourage referees who for personal interest influence the result of a game.

"I will appeal to fans to be patient, we know there are challenges with officiating just as we have it on the field in terms of play, so Kotoko fans must clear their mind that no FA official will influence referees to cheat their club."
Watch the latest episode of Sports Check on GhanaWeb TV