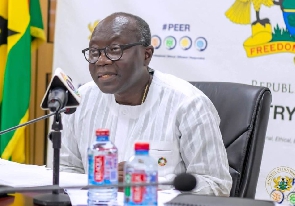 Finance minister, Ken Ofori-Atta, has asked the Ghana Revenue Authority to ensure that the country collects more taxes to close the gap between Ghana's GDP and tax ratio.
The minister commended the Authority for achieving more than its revenue target for 2022 by over GH¢3 billion.

Ofori-Atta thus noted that the GRA would have to do more to close the revenue gap and ensure that leakages are reduced.

"I think they did well and we will expect more of such. They surprised us last year by giving more than the target and I think it's a good trajectory. But the concern is how to raise the ratio so that more can be mobilized," he was quoted by myjoyonline.com

He added that "When you look at the GDP [Gross Domestic Product] as against our tax proportion and what others are taking in the sub-region, we're still far behind. And more is expected of us whether the Ministry of Finance or the Ghana Revenue Authority," he said at the inauguration of the Tax Appeals board.
Ghana's economy has come under intense financial difficulties as its expenditure continually exceeds its revenue.

The country's current debt-to-GDP ratio stands at over 100%, a situation that has resulted in the default of the country on its debt payments.

SSD/FNOQ