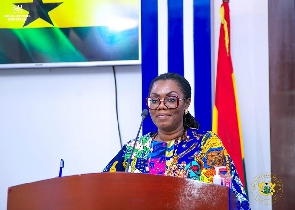 A seven-member delegation from the Gambia on a five-day ICT study tour in Ghana on Tuesday, 7 September 2021 called on Communications Minister Ursula Owusu-Ekuful.
The delegation, led by the Gambian Minister of Information and Communication Infrastructure Mr. Ebrima Sillah included the Director General of the Gambian Public Utility and Regulatory Authority (PURA), Mr Yusupha Jobe and the Deputy Managing Director for Gambia Telecom (GAMTEL), Mr. Lamin A. Tunkara.

They are in the country to study Ghana's various ICT and digital initiatives, projects, programs and policies with a view to adapting some for their own purposes.

They identified cybersecurity, ICT policy and legal framework, digital economy and identity, expert negotiations, infrastructure sharing and utilisation of local content as some of the areas they would like to learn more about Ghana's experiences.

In her remarks, Ms Owusu Ekuful urged the team to utilise the World Bank's support to develop and implement the basic fundamental policies to support their ICT drive.

She also emphasised that without political will, their efforts will be thwarted.

She encouraged the team to adopt the interoperable systems which are scalable and would enable the Gambian government minimise duplication, waste and dissipation of resources.
"It is also critical that every ICT procurement should be done with the input of experts to ensure value for money," she advised.

The lawmaker further noted that Ghana has a common platform for regulatory, fiscal and financial oversight of the telecom industry. The infrastructure she said is owned by the government and the country can decide to layer on additional components.

She also spoke about Ghana's Rural Telephony Project, providing connectivity to rural communities, cybersecurity and data protection in the country. She, however, cautioned that whilst digitising the various sectors, individual liberties must be respected.

The Gambian team will visit the various agencies under the Ministry of Communications and Digitalisation to obtain first-hand information about their work.

Ms Owusu Ekuful reiterated Ghana's readiness to support Gambia in realising its ICT and digitalisation objectives.

Speaking on behalf of the delegation, Mr Ebrima expressed his delight at Ghana's willingness to host them and the extensive programme drawn up for their visit which would enable them interact with all the agencies under the MoCD, private sector service providers and the Ministry of Finance.