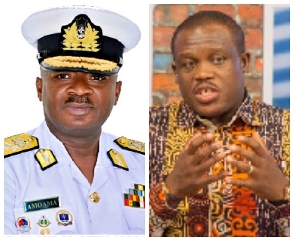 The Member of Parliament (MP) for Ningo Prampram, Sam Nartey George, has criticised the security apparatus of the nation, particularly the Ghana Armed Forces, for failing to find a solution to the violent clashes in Bawku.
Speaking in a TV3 interview on Wednesday, April 5, 2023, monitored by GhanaWeb, Sam George said that the continuous violence and killings in Bawku show that the intelligence apparatus of the military has completely failed.

He added that Bawku has become so dangerous that MPs who were travelling to Bawku to engage the feuding factions were left stranded in Tamale and forced to travel back to Accra because the Ghana Army was afraid of going into the town.

"Mr Speaker set up a committee, the intelligence committee, and asked them to go to Bawku led by the Chairman, Kennedy Ohene Agyapong.

"They informed the military high command, they flew from Accra, got to Tamale, they we supposed to be met in Tamale by a team of military officers to escort them from Tamale, then when they get to Bawku, the military was supposed to provide them with a security cordon for them to go and talk to both sides.

"The Ghana Armed Forces informed the Parliament of Ghana that they cannot provide security and that they cannot go into Bawku. Our army is afraid of going into Bawku … yet you have them going to Ashaiman and beating everybody and making them drink gutter water," he said.
"They were showing themselves as King Kong there (in Ashaiman). If you are strong, the boys in Bawku are misbehaving go there and check them," he added.

The MP made these remarks while reacting to the shooting of security officers in Bawku, which led to one of them being killed and two others sustaining injuries.

Some unknown assailants shot and killed personnel of the Ghana Immigration Service at Bawku.

A report by 3news.com said the officer was attacked together with two other officers, who are currently fighting for their lives at the Bawku Presbyterian Hospital.

The deceased was identified as Philip Motey, while his colleagues are Eric Ayibiya, 30, and Lawrence Afri, 42.
The men were attacked on the night of Monday, April 3, 2023, in the conflict-prone community while on their way to Missiga.

The report indicated that it is still unclear what the motivation for the attack was by the unknown assailants, although there are claims that it may be related to the prolonged conflict at Bawku.

Recently, there have been several reports of how residents of Bawku have been placed under fear after they were repeatedly terrorised by gunmen in the area.

Meanwhile, the military presence in the area has been beefed up.

Watch the latest edition of People & Places below:






IB/OGB