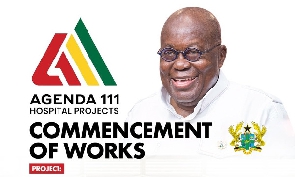 The Ghana Medical Association (GMA) has commended government for initiating a project to build 111 health facilities across the country under 'Agenda 111'.
Dr Titus Beyuo, who is the Deputy General Secretary of GMA, said doctors are not averse to any policy that will expand healthcare delivery in the country.

"To us, the [Ghana] Medical Association, and medical practitioners, in general, any addition to infrastructure is very welcome because the deficit is huge," he said on The Keypoints on TV3/3FM on Saturday, September 11.

"Any single drop in that ocean, we will appreciate it and to that extent, we commend government for bringing this initiative."

Agenda 111 was conceived by the Akufo-Addo-led government in the height of the Covid-19 pandemic, resolving to expand healthcare in the country.

He announced in one of his Covid-19 televised addresses in 2020, precisely in April that year, that the pandemic had exposed the health sector and there was the need to take frantic steps to bridge the gap.
"There are 88 districts in our country without district hospitals. We have six new regions without regional hospitals. We do not have infectious disease control centres dotted across the country and we do not have enough testing and isolation centres for diseases like Covid-19. We must do something urgently about this. That is why Government has decided to undertake a major investment in our healthcare infrastructure, the largest in our history. We will, this year, begin constructing 88 hospitals in the districts without hospitals."

Though the construction did not begin in 2020, on Tuesday, August 17, 2021, President Nana Addo Dankwa Akufo-Addo cut sod in Trede in the Atwima Kwanwoma District of the Ashanti Region for the commencement of the projects.

But many criticised the government for starting a project when there are several uncompleted ones left by previous regimes and dotted across the country.

There are even other health facilities that have been commissioned but not operational.

Despite expressing sadness over the situation, Dr Beyuo, however, indicated that "we welcome the new ones but we also want these [abandoned] ones to be completed."
"Like I am saying, I don't think it should be an 'either. . .or'. We want both. Push these ones into function now and if you can compete these 111 hospitals within the stipulated time, we will be very happy."

He, nonetheless, expressed concerns about the human resource for the Agenda 111 hospitals, which have been projected to be completed within 18 months.

"Why are governments more interested in infrastructure, which are very good, don't get me wrong, we need the infrastructure. But the human resource component! Because if you are doing such a massive project, you want to see a massive human resource laid down. You can raise a hospital in 18 months if you have the money. The question is, 'Can you raise the needed number of staff over the same period without planning?'"