General News Wed, 15 Aug 2018
After a successful series of 13 riveting programmes broadcast on 14 TV stations, educating the public about the core mandate of GPS to protect lives and property and providing reliable accurate news stories on policing in Ghana, your favorite and most authoritative current Affairs Programme on policing continues with a brand new season.
Over the next 13 weeks, Ghana Police Watch will bring you breaking news as well educate the public about police operational issues critical to ensuring maximum protection of all citizens from crime.
These will include how to better access police services, identify bone fide police officers, the correct procedures for bail, road safety and how to best report alleged cases police misconduct. GPS will also update the public on its internal efforts to re - train and re – tool officers for efficient service delivery.
We will not only continue to solicit public feedback on the issues raised in the programmes, On key innovation is to institutionalize a Police Award Scheme where members of the public nominate and vote for best police officers and police stations, based on established criteria.
The new season, complete with new visual graphics reports on the Midlands Savings and Loans Company incident, focuses on lessons to be learnt and the correct role of police guards in private institutions such as banks and other financial institutions. Some of the people interviewed include;
Dr. Franklin Oduro, Executive Director, Centre for Democratic Development (CDD), ASP Nanewortor Foster, Clinical Psychologist, Ghana Police Service, DSP Adu Acheampong Agyemang, Ghana Police Academy, Chief Inspector Francis Odonkor, Station Officer, Cantonments Police Station and Mr. James Kwesi Addison, Director, Social Emotional Skills Academy.
The studio discussion features Assistant Commissioner of Police (ACP) David Eklu, Director General, Public Affairs Department and Mr. Kofi Blankson Ocansey, Strategy Consultant and Social Commentator who give more details and appraisal of the issues. We look at police guard duty deployment, operations and support to officers on the ground whilst on such duties, the need for police officers to adhere to their institutional mandate to protect lives and property and to avoid distractions.
We draw the critical distinction between the role of the police officer and the institution's internal security to deal with internal matters relating to their operations and interactions with their customer.
The discussion further focuses on police training and the need for continuous training. Emotional Intelligence tools and the critical need for policemen to be supported to maintain their mental and emotional health throughout their active careers is also discussed in view of the stressful nature of police work,
ACP Eklu reminds institutions and VIPS with officers on guard duty that the primary role of the police officer is to protect the institution or VIP from criminal attack especially attack on their lives and that of their employees and facilities.
ACP Eklu condemns the act of people who are fond of using police officers as a scarecrow to intimidate the vulnerable in society or to settle their industrial disputes and other inefficiencies.
ACP Eklu also advises banks to improve the security training and increase the capacity of managers to better handle internal security challenges that may arise. Branch managers should also have direct links to the GPS supervisors who deploy the guards to duly notify them in difficulties.
A Business Consultant and Social Analyst, Kofi Blankson Ocansey also describes the action of the police officer as disturbing and unacceptable.
He concludes that the management of the institution failed woefully in their mandate to solve the dispute between them and the woman especially when the woman had failed to have access to her funds on previous occasions.
In all a well informed programme that draws the right lessons to help us ensure that this unfortunate incident does not repeat itself.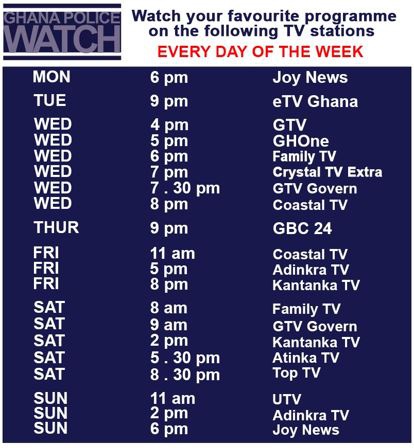 Source: Ghana Police Service