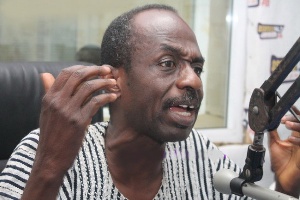 General Secretary of the National Democratic Congress (NDC), Johnson Asiedu Nketia believes that Rebecca Akufo-Addo, wife of Nana Akufo-Addo, will soon call him for directions on how to reach wife of Nigeria's President, Mrs. Buhari for advice.
Asiedu Nketia had earlier called on Mrs. Akufo-Addo to seek President Buhari's wife for advice on an assertion derived from the recent rant between President Buhari and his wife, Aisha, over his presidency.

"Did you hear what happened recently?" Asiedu Nketia, otherwise known as General Mosquito, asked a crowd when he was addressing a campaign rally at Adenta on Sunday, adding that "his wife says it was a mistake for him to run for president in the first place."

According to him, since the NPP rode very high on the loss of Goodluck Ebele Jonathan in the 2015 Nigeria elections and compared the victory by General Muhammadu Buhari as a good omen for flagbearer Nana Addo Dankwa Akufo-Addo because of the age, by now Mrs. Akufo-Addo should be advising her husband out of politics because "now he is weak and cannot govern like President John Mahama".

Speaking on ekosii sen on Asempa FM on Monday, General Mosquito told the host that he believes Mrs. Akufo-Addo, will call him by the end of the week for the direction to get to Mrs. Buhari for an insightful advice on her observations.
Asiedu Nketia, then noted that Adentan constituents, and by extension Ghanaians, will be better off giving NDC a four-year extension.

To him, the NDC is the only party that cannot fail the test of tribalism.

"NDC is the only national party giving opportunity to every Ghanaian no matter where you come from", he added.