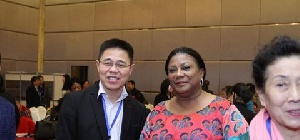 First Lady Mrs. Rebecca Akufo-Addo has assured Chinese investors at a conference to promote trade relations between Ghana and China in Hunan in the Changsha Provence of China that their investments in Ghana will always be safe.
Addressing the "2017 Ghana-Hunan Economic and Trade Conference" hosted by the China Council for the Promotion of International Trade (CCPIT), the First Lady touted Ghana's credentials as a safe and profitable place for Chinese investors.

She stated that Ghana is a" globally acknowledged democracy" which has changed governments successfully since 1992 "without causing any dislocations to the political, economic or social systems of the country" therefore "all investors are assured of a stable and peaceful country to invest in."

Mrs. Akufo-Addo added that Ghana has "an assertive parliament, an independent judiciary and a vibrant media" and these are "safeguards against unpredictable actions of any one person or government and further serves as security for the protection of investment."

The First Lady noted that Ghana as the second largest ECOWAS economy with a total market of about 500 million people is strategically placed to open up new and additional markets to boost their investment.

She further said "Ghana's acclaimed educational system has ensured that the majority of its work force has the needed skills that industry requires or where those skills do not exist, the workers could be easily trained to become productive."

The First Lady also indicated Ghana has a generous investor incentive through the Ghana Investment Promotion Centre (GIPC), free zones enterprise and other institutions adding that "regardless of where the investment was, the government had instituted a number of generous incentives for the investor depending on the activity or the location of the investment to ensure that their investment thrived."
Listing some of the investment opportunities in Ghana, she said agriculture and agro processing was an area that was ripe for investment.

She added other priority areas such as energy sector especially renewables as well as infrastructure sector such as roads, railways, ports, airports, public housing and real estate development, manufacturing and Industry, mining industrial salt, gold, bauxite and iron ore and tourism, ICT and in the financial services sector especially equity financing.

The Deputy Head of Macroeconomic Research Unit, Ministry of Finance, Dr. Millicent deGraft-Johnson who spoke on the governments short to medium-term development programme said it was aimed at providing opportunities for growth and job creation through the private sector, and had developed concrete reform actions to tackle key challenges to private investment such as ensuring macroeconomic stability and debt sustainability, improving the ease of doing business and enhancing access to affordable and long-term financing and de-risking instruments.

Ghana's Ambassador to China, Mr Edward Boateng in a remark said the summit will go a long way to deepen the relationship between Ghana and China as well as facilitate investment into the One-District-One-Factory (1D1F) initiative.

The First Lady later witnessed the signing of cooperation agreement on Economy and Trade between CCPIT Hunan and the AGI and an Agricultural Cooperation Project between the CRI and the Hunan Hybrid-rice Research Center.