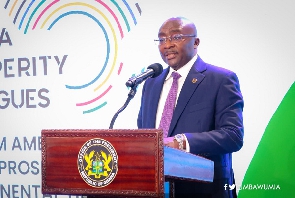 Owing to rampant fire outbreaks which occurred last year, Ghana lost in excess of GH¢64 million as a result of some 6,796 fire outbreaks recorded by the Ghana National Fire Service (GNFS).
According to the Vice President Dr. Mahamudu Bawumia, these fire incidents resulted in 241 injuries and 50 deaths.

Speaking at a graduation parade of the Cadet Course Intake 23 of the GNFS, the Vice President said the rampant occurrence of these fire outbreaks were unacceptable and therefore called for collaborative efforts towards tackling the situation.

He highlighted on the severity and impact that these fire outbreaks have had on individuals, organisations, institutions and also government.

"The repercussions of these losses, especially with the loss of human lives has been dire and still difficult to grapple with. The fight for fire safety is far is from over as it requires continuous attention and a concerted effort to consolidate the gains so far made and improve upon their achievements," the Vice President stressed.

Dr. Bawumia noted that to support the operational capacity of the GNFS in tackling these incidents, government will provide some 200 rapid intervention vehicles before the end of 2023.
He further added that a prototype of these vehicles was already in the country while the rest would be assembled locally.

The Vice President however called on officers of the GNFS to ensure the public receives the needed sensitization and education on the dangers, causes and solutions to tackling fire incidents.

MA



Ghana's leading digital news platform, GhanaWeb, in conjunction with the Korle-Bu Teaching Hospital, is embarking on an aggressive campaign which is geared towards ensuring that parliament passes comprehensive legislation to guide organ harvesting, organ donation, and organ transplantation in the country.
Watch the latest edition of BizTech and BizHeadlines below:





Click here to start the nomination process for the 2023 GhanaWeb Excellence Awards