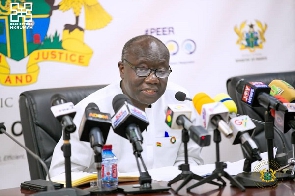 Recent data released Bank of Ghana showed that the country's balance of payments (BoP) position worsened to a deficit of $3.64 billion in December 2022 from a $3.4 billion deficit in the previous quarter.
Ghana throughout last year experienced a raft of economic challenges which have rendered almost all economic indicators in distress.

Consumer inflation rate reached 54.1 percent at the end of December 2022, the local currency also tumbled by about 50 percent throughout 2022 while interest payments on government debt increased between 70 percent and 100 percent of Gross Domestic Product.

The Central Bank report further indicated the balance of payments risks have been occasioned by a sharp reversal in capital flows.
Additionally, Ghana's account deficit deteriorated to $2.18 billion in December 2022 from $1.64 billion in September 2022. Within the same period in 2022, Ghana recorded a capital account surplus of more than $3.3 billion.

As part of efforts to secure an IMF bailout and address the country's unsustainable debt situation, government launched the DDEP inviting bondholders to voluntarily exchange approximately GH¢137 billion domestic notes and bonds of the Republic including ESLA and Daakye for a package of new bonds.

MA