Ghana's democracy is based on rule of law, not the rule of man – Bagbin tells British House of Lords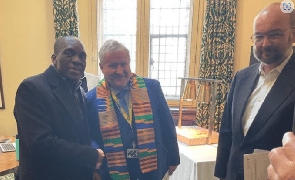 Ghana's Speaker of Parliament, Alban Bagbin, has told the British House of Lords and the House of Commons at Westminster in London that Ghana's democracy is hinged on the rule of law and not on that of man.
He explained that by this, the country practices what is in its laws, bounded by existing cultures and traditions, and not what any man or nation expects of it.

According to a 3news.com report, Bagbin stressed that Ghana and the African continent would not be cowered by threats from countries that give them investments and international aid.

Speaking in the meeting, Alban Bagbin rather stressed the need for such nations to be understanding of the positions of some of these nations on such matters as the LGBTQ+ conversations.

His comment was also about the concerns of the Members of Parliament of Britain on a recent law passed in Uganda on LGBTQ+, as well as Ghana's bill on the Promotion of Proper Human Sexual Rights and Family Values, which is currently being considered.

"Threats are not the way to go. If your neighbour or partner has a problem, you help him to solve it. Boycotts and threats do not solve problems: engagement and understanding do.
"Ghana's democracy is based on the rule of law, not the rule of man," he said.

Alban Bagbin further told his compatriots in the United Kingdom that the responsibility now rests on parliaments worldwide to receive bills from civil society or interest groups, usually through the process that allows for a Private Member's Bill or from the executive, and work on them.

"There is nothing untoward; nothing wrong with efforts by Ghana's Parliament to legislate on the promotion of human sexual rights and family values in Ghana, using our constitution as a compass," he added.

Alban Bagbin also stressed that he understands the need for urgency to be attached to the bill before Ghana's parliament because "any legislation that detracts from the human rights and freedoms guaranteed by our constitution will be a candidate for litigation in our court of law."

Meanwhile, watch the latest episode of People and Places on GhanaWeb TV below:




Share your news stories and ideas with GhanaWeb




AE/SEA