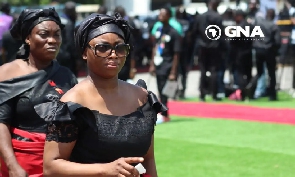 Sat, 18 Mar 2023 Source: GNA
Christiana Atsupie Twasam, the twin sister of former Black Stars' influential player, Christian Atsu Twasam, has sorrowfully pleaded for God's strength to journey on in life after losing 'her dearest twin brother.'
Christian Atsu was found dead after 12 days in a rubble after the devastating earthquake rocked Turkey and Syria on Monday, February 6.

The 31-year-old was a winger at Turkey's Hatayspor FC when the disaster occurred a day after he scored his first goal for the side the previous day.

The tragedy broke the hearts of Ghanaians and the football community who have since celebrated him with tributes extolling his beautiful nature and benevolence.

At a State memorial service in Accra before his burial on Friday, Atsupie Twasam said in her tribute: "Atsu, my heartbeat, the love of my life, my husband, my world, my role model! I journeyed to Turkey with the motive of returning to the UK with you alive after the news of the earthquake, but as the Holy Book says, our thoughts, ways, and plans are not of God's.

"You had a mother's heart, Atsu, and when you did say 'Atsupie it is okay, just overlook it, it's nothing,' it was comforting. Atsu, you left me in the middle of the ocean, as we are not done with our plans and the love we shared. Atsu, I pray that you and the Almighty God grant me the strength to overcome this pain and permanent scar, and to continue with your good deeds. Atsu, I love you beyond everything, but the Almighty God loves you more. Rest in perfect peace, love, till we meet again."
Christian Atsu's state funeral was attended by hundreds of mourners, led by President Nana Addo Dankwa Akufo-Addo.

Atsu played for clubs including Everton, Chelsea and Newcastle, and had 65 caps for the Black Stars of Ghana where he scored 10 goals with nine assists.

His highlight with the senior national team was when he received the Best Player award and Best Goal of the 2015 Africa Cup of Nations, in Equatorial Guinea. He helped Ghana to reach the final stage of the tournament.

Atsu is survived by his widow, Marie Claire Rupio and three children.
Source: GNA