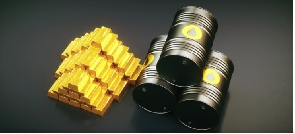 Renowned Energy and Policy Analyst at the Chamber of Petroleum Consumers (COPEC), Benjamin Nsiah has debunked claims that Ghana has received its first consignment of Gold for Oil policy geared to stern the increasing depreciation of the cedi against the major trading currencies.
In a recent interview on the Happy Morning Show with host Samuel Eshun, he disclosed that reports of the 41,000 metric tonnes of petroleum delivered belongs solely to Bulk Oil Storage and Transportation Company (BOST) which made purchases earlier.

He argued that the reports from the National Petroleum Authority (NPA) contradict the accounts from BOST as he indicated that there was no involvement of gold to procure the fuel products.

"There are conflicting reports with the figures presented. When you listen to the PRO for BOST in an early interview indicated that the products that came where 51,000 metric tons and spent $43m to acquire these products. So I was hoping that the NPA communique will be consistent with what the BOST PRO has said but they rather said they used $40m to buy the 40,000 worth of product. So there's the inconsistency with the reports," he said.

"I don't believe that there was any involvement of gold proceeds to purchase the oil. I know BOST already imported these oil products and this is not the first time they've done this. They did it last year and the previous years. Its mandate is to import and store these products and when market is likely to turn slumps they sell them to Ghanaians," he added.

Mr. Nsiah furthered that the fuel products received are due to the arrangements of BOST and have no relation with the gold for oil policy. He disclosed that the consignment under the policy is yet to be received.
"So these latest oil products are one of the arrangements from BOST. That's why the Deputy Governor of Bank of Ghana when asked about the quantity of gold used to buy the product was unable to answer. Because this particular arrangement, the bank of Ghana has no idea about the consignment as did GNPC. It's BOST who purchased this product," he affirmed.

"However someone had already announced that the product will be in Ghana by January 15 and if BOST has gotten their purchase then we should use that as care off. The current products are not gold for oil products but BOST purchases."

This comes after reports indicated that the first consignment of the government's Gold for Oil Policy, has arrived in Tema and been discharged into the tanks of Bulk Oil Storage and Transportation Company (BOST).

The 41,000 metric tonnes of petroleum products that are reportedly supplied by SCF YENISEI would be sold by BOST to Bulk Distribution Companies (BDCs) throughout Ghana.

The deal was allegedly negotiated by the Economic Management Team, which was headed by Vice President Dr. Mahamudu Bawumia, and was worth $40 million.